The Nationals Member for Gippsland South, Danny O'Brien is calling for local road projects that have remained unfunded to be addressed in next week's Victorian Budget.
Mr O'Brien was speaking after South Gippsland's own Meeniyan-Promontory Rd was featured in The Weekly Times as one of Victoria's "potholed paths to nowhere".
"Usually, I like to see my electorate in statewide media, but not for this reason," Mr O'Brien said.
"The road to Wilson's Promontory remains in a terrible state and although there have been some short-term repairs, it continues to be narrow, in poor condition and with no overtaking lanes.
"It's an embarrassment that the Andrews Labor Government would allow a road that serves as the gateway to one of Victoria's most beautiful national and international tourist attractions to fall to such disrepair."
Mr O'Brien said it was deplorable that roads across Gippsland were left to fall apart under patch jobs while the State Government failed to act to deliver significant improvements.
"I understand from the article that $2.5 million has been invested on maintaining this narrow road without any significant improvement.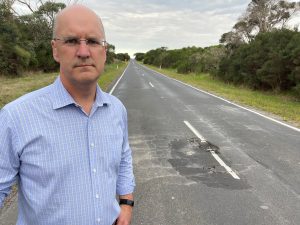 "The ongoing patch repairs taking place on Gippsland roads is not only a waste of money, but dangerous for road users and their vehicles.
"Unfortunately, we've seen in the past year that even when work is done, it can be substandard and lead to worse outcomes.
"Gippsland roads deserve substantial funding to produce high-quality road surfaces, not the ongoing patch jobs we keep seeing around the area."
Mr O'Brien said he had raised his concerns with the Minister for Roads in Parliament and highlighted a number of specific road projects across Gippsland, including the Prom Road, that must be allocated funds as a priority.
"The Coal Creek bends realignment is essentially a shovel-ready project which has been planned for years but continues to go without capital funding.
"The Leongatha heavy vehicle bypass stage 2 desperately requires funding for planning and development.
"These roads are just three examples of many within Gippsland South that need to be addressed in next week's State Budget, but I know that there are many more."
Mr O'Brien said The Nationals had launched a three-month campaign to Vote for Victoria's Worst Road which asks motorists to submit first-hand condition reports via an online portal to list the most dangerous hazards risking lives on our roads every single day.
To submit a road visit the online portal at Vicsworstroad.vote.