The Nationals Member for Gippsland South, Danny O'Brien handed over hundreds of donated unused disposable nappies to Uniting Care to distribute locally.
Mr O'Brien collected the nappies at his office as a drop-off point for the Nappy Collective Giving Project.
"This is a great initiative that I take part in year-round and as always we have an overwhelming response from the local community," Mr O'Brien said.
"Despite the tough times that our region has faced over the past few years we have continued to be inundated with donations that will prove extremely useful to a lot of families who continue to do it tough.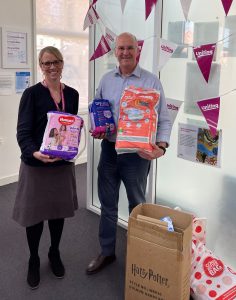 "This project is locals helping locals and I know that Uniting will ensure these nappies go directly to those who need them most."
The Nappy Collective is an Australian charity that aims to assist families who do not have enough nappies to change their children as often as they need to, known as "nappy stress".
The Nappy Collective reports that around 280,000 children in 150,000 families experience nappy stress in Australia each year.
Donating nappies relieves this stress and allows for children to be changed more often. This in turn also allows parents to afford to pay for other essential items, such as food and bills.
Mr O'Brien said he will continue to be a participant in the Nappy Collective Giving Project and that he encourages people to continue to drop off donations of unused disposable nappies to his Sale office at any time.
A full list of donation drop off points as well as more information about the Nappy Collective Giving Project is available at www.thenappycollective.com.