Toora Football Netball club will get new lights for its home ground following the announcement of a grant from the State Government.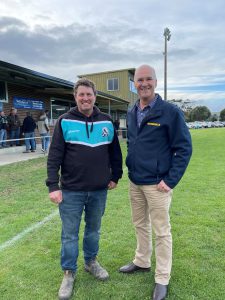 The Nationals Member for Gippsland South, Danny O'Brien congratulated club co-president Trent Crawford when he called into the Magpies home game against Stony Creek on Saturday.
Mr O'Brien has been working with the club on grant applications and is pleased that the hard work has paid off.
"Toora is a great little club and doing a lot of hard work to support sport in its local community and the reward of getting these grants is well justified.
"I look forward to continuing to work with the club on further grant opportunities to help redevelop the club's football and netball facilities. "
The lights will be replaced thanks to the state government grant along with contributions from South Gippsland Shire, the club itself and a further grant from The Nationals-Liberals Federal Government thanks to Member for Monash Russell Broadbent.