The Nationals Member for Gippsland South Danny O'Brien says the new TAFE Gippsland Port of Sale campus will give locals greater options for further learning and industry training when it welcomes students through its doors in 2022.
Mr O'Brien said he had campaigned for the new campus since being elected and The Nationals committed to building it in 2017 before the State Government later came on board.
"It's taken a long time, but I've been delighted to watch the progress of the new $25 million campus' construction which will provide a great local further study option to our future workforce," Mr O'Brien said.
"The construction project is gaining pace and I look forward to seeing the benefits it will bring to the community. This is a project the community has thrown its support behind for a number of years and I'm delighted to see it coming to fruition.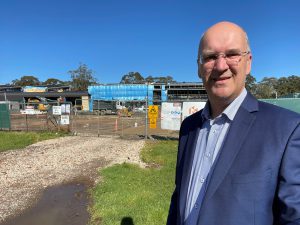 "It seems odd that the Minister for Training and Skills has issued a statement today that the project is "well underway" when it actually started in December last year.
"Perhaps the Minister should be confirming whether the project is on track and that students will be in the new facility for the start of the 2022 year as scheduled?
"The need for the TAFE campus to move from Fulham to Sale was one of the first things raised with me when I was elected as the Member for Gippsland South in 2015.
"In August 2017 The Nationals committed to building the project. Nearly a year later, the Labor Government matched our commitment.
"It's been a long road, but I'm excited that our community is finally going to be able to benefit from ready access to quality education right here in the centre of Sale."
Mr O'Brien said the location of the new campus on the old netball courts is far more accessible than the Fulham campus and he hoped this would boost enrolments.
"Locating the TAFE in an area that is more readily accessible to Sale residents and those in surrounding towns is a great step towards achieving this."
Anyone interested in enrolling in an accredited TAFE course at the new Port of Sale Gippsland TAFE site should visit www.tafegippsland.edu.au or call 1300 615 706 to discuss the options available to them.