The Nationals Member for Gippsland South, Danny O'Brien has called on the Andrews Labor Government to adopt widespread rapid COVID antigen tests to help Victoria exit from a cycle of lockdowns.
Mr O'Brien said the Opposition National and Liberal parties had been pushing rapid testing and undertook tests themselves before the start of Parliament this week.
"Rapid testing involves a throat and nasal swab just like PCR tests but is cheap and gives a result within about 15 minutes.
"While no testing is perfect, rapid antigen testing can deliver a 95-99 per cent accuracy and should always be used with a PCR test as a back-up.
"What we're calling for though would ensure more rapid testing is allowed, to give Victorians more of their lives back."
Mr O'Brien said there were numerous situations where rapid testing could work and ease restrictions.
"One of the most difficult things to deal with is the angst of people with friends or relatives in hospital or aged care who can't visit them, particularly in times of illness or anguish.
"Allowing visitors to take a quick test before entering would alleviate that issue.
"It could also be used for major sporting events, for truckies travelling interstate and in many other situations"
Mr O'Brien said the recent G7 Summit of world leaders was able to go ahead because rapid testing was used at the start of each day.
"If it's good enough for our world leaders to ensure their meeting can continue, there's no reason it shouldn't be good enough for Victorians."
Numerous experts have backed the use of rapid testing as a tool in the armoury to get us out of the pandemic and it's perplexing why the Andrews Labor Government won't adopt its use more widely.
"Rapid testing is already being used by the Victorian courts system and the Government is also using it in hotel quarantine and hospital situations so the argument that it is not accurate enough are shot down by the Government's own action.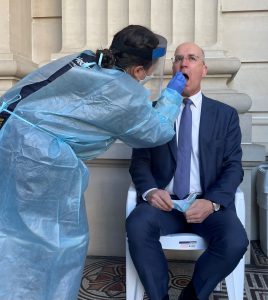 "Labor has only one tool to manage COVID and that seems to be statewide lockdowns, but there are alternatives.
"The Nationals and Liberals have always said we will seek to avoid statewide lockdowns which should be a last resort not a first response."
The Nationals and Liberal 5-point plan involves:
Limiting lockdowns to LGAs or postcodes. Areas without COVID should not be locked down in the same way hotspots are.
Fixing contact tracing. This is key to putting a fence around future outbreaks.
Deploying rapid testing. Waiting 24 hours or more for a result puts more Victorians at risk.
Releasing the health advice. We all deserve to know the basis for harsh measures that lock us down.
Better targeted vaccinations.