The Nationals Member for Gippsland South, Danny O'Brien has again called on the State Government to improve roads in South Gippsland, particularly those leading to our iconic tourism destination Wilsons Promontory National Park.
Speaking in State Parliament on legislation to enhance and protect the Great Ocean Road, Mr O'Brien said the Government needed to do better right across the state.
"The Great Ocean Road is a major tourism destination for Victoria, but the Government needs to realise that our tourism assets right across the state need work, particularly in Gippsland.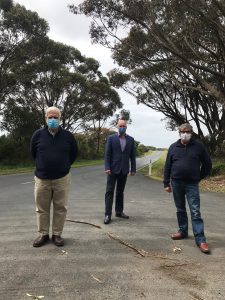 "The Meeniyan-Promontory Road and Foster-Promontory Road that provide access to the Prom are in very poor condition. They are single lane, there are no overtaking lanes, few opportunities to overtake, the road is pockmarked with potholes and in many areas, has no sealed shoulders.
"This is one of Victoria's top-line tourist destinations and yet the road access to it is appalling."
Mr O'Brien said it wasn't just tourists but locals who had to put up with the poor roads in the area.
"This is a key dairy and beef production area as well as a lifestyle and tourism destination and the roads are not good enough.
"I took the opportunity while the Government was crowing about works on the Great Ocean Road to remind Labor that Gippsland also deserves a better deal and the road to the Prom is in need of serious work.
"I raised this issue in Parliament last year and got only a motherhood response from the Minister for Roads without directly addressing the issue of both Meeniyan-Promontory and Foster-Promontory Roads.
"It's time the Government put some effort into this area to ensure our tourism and local industry can thrive and local people are safe on our roads."