The Nationals Member for Gippsland South, Danny O'Brien has called on the State Labor Government to confirm the scheduled opening date for the new Port of Sale TAFE campus.
Speaking in Parliament recently, Mr O'Brien said the campus was scheduled to open for the return of students in February 2022 and he wanted clarity from the Government over whether this will occur.
"I have been campaigning for this campus since I was elected in 2015 and was proud that The Nationals made a commitment to its construction prior to the 2018 election.
"It's great to see this new modern building emerging on the old netball courts site, but I am concerned to know if construction is on pace for the scheduled opening next year.
"We have many hundreds of students in the region who are looking forward to the opportunity to study at the new campus and are seeking information on the courses that will be available."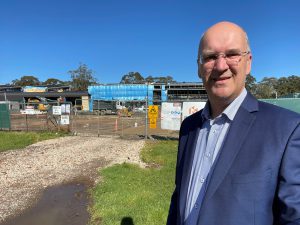 Mr O'Brien said there have been delays caused by COVID shutdowns in construction, but these should be minimal.
"Construction was shut down across the state for two weeks and that in itself shouldn't be enough of a reason to have delayed this campus.
"We are all looking forward to seeing the finished facility and I hope the Government will allay any concerns about the opening date for the new facility.
"The new campus will bring extra life to the town centre and make TAFE training more attractive for residents of Sale and the wider Wellington Shire given it is far more accessible than the Fulham Campus.
"I look forward to hearing an update from the Government and seeing this fantastic new educational facility open for residents of the region."