Erosion of the Lake Victoria foreshore at Loch Sport continues to get worse while the State Government fails to take action.
The Nationals Member for Gippsland South, Danny O'Brien is again calling on the Government to take action to prevent the foreshore being eroded and local infrastructure such as walking paths and picnic tables being washed into the lake.
Mr O'Brien has been campaigning for some time for a solution into the erosion issues, particularly around Seagull Drive and Toorak Avenue, but the State Labor Government continues to dither.
"I visited the foreshore again recently and clearly this winter's winds have taken a further toll," Mr O'Brien said.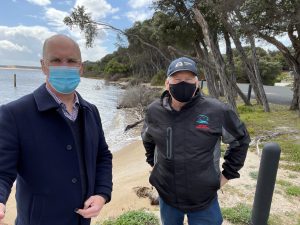 "The Government provided taxpayer funds to relocate the walking track around Seagull Drive boat ramp in the past year but this is only a temporary fix and the erosion continues to get worse.
"It is clear that where groynes have been installed at other parts along the Lake Victoria foreshore that the erosion has been arrested and it's quite obvious that that is what's needed in these remaining parts of the town's foreshore.
"The Government is now up to its ninth different consultant's report and it just needs to stop wasting money and time and actually act.
"Natural wave and wind motion is doing the damage and wasting time on more consultant's reports is not helpful and won't deliver a solution. If the Government doesn't act soon not only will public land be washed away, there will be a threat to private property along the foreshore of Lake Victoria.
"Loch Sport is justifiably proud of having one of the few north-facing waterfront views in the state and the beach needs to be protected.
"I have written to the Minister for Environment yet again to urge immediate action and funding to fix the problems at Loch Sport.