The Nationals Member for Gippsland South, Danny O'Brien got to play Santa last week as he handed over the many wonderful gifts donated by local community members to Heather Baird of A Better Life for Foster Kids.
Mr O'Brien has joined several Gippsland businesses in hosting a Giving Tree at his office in order to collect gifts and financial donations and will continue to do so in the lead up to Christmas.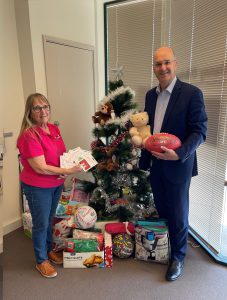 "2021 has proved to be another difficult year for many and as usual I am completely blown away by the generosity of our local community," Mr O'Brien said.
"I am extremely grateful to our community and for the tireless work of Heather Baird and her team of volunteers for making this possible.
"I want to take this opportunity to thank the carers who provide homes for these children in their time of need."
Mr O'Brien said that there were hundreds of children in Gippsland who will be in out-of-home care at Christmas for a large array of reasons.
"These gifts will help put a smile on the faces of children in out-of-home care at Christmas and spread joy at what might understandably be difficult time for these children."
Gifts can also be posted direct to the charity at PO Box 1138, Sale VIC 3850.