The Nationals Member for Gippsland South Danny O'Brien has called on the Andrews Labor Government to fess up about a fire station budget commitment that has gone nowhere in 12 months.
Mr O'Brien said the 2020-2021 State Budget announced funding for a badly needed new fire station at Winnindoo, between Rosedale and Heyfield.
However, despite several attempts, the Andrews Labor Government has refused to confirm how much money it has set aside for the new station, no construction has begun and there is no indication of when the station will be built.
"I had campaigned previously for a new station for the small band of hard-working volunteers at Winnindoo as they had an old tin shed with no toilet facilities, change rooms or anything expected by modern volunteers," Mr O'Brien said.
"So I was pleasantly surprised when there was literally six words in a generic press release last November from the Premier that indicated a new station would be built at Winnindoo.
"Given the station wasn't specifically listed in the budget papers, I wrote to the then Emergency Services Minister who also failed to say how much money had been allocated or when construction will start.  This is now getting a bit beyond a joke and the volunteers at Winnindoo are starting to wonder whether the project will ever happen."
Mr O'Brien said it was highly unusual for the Government to announce a project in the budget but fail to give any indication of how much money would be spent.
"Our CFA volunteers have been badly mistreated over the last seven years of the Andrews Labor Government and this seemed to be some sort of bright light on the horizon for the small community of Winnindoo.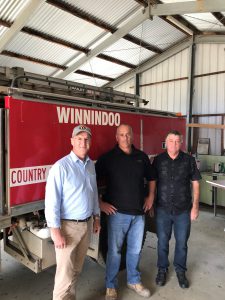 "We are now all wondering just actually what has happened and whether this commitment was a figment of the Premier's imagination.
"The reality is that a generous local volunteer has already provided land on which the new station can be built and all we need is the money and a start date from the State Government.
"I speak to the volunteers and I know that they are very frustrated, and they would like to see action happening yesterday.
"It's time the Government came clean with how much money the new station will cost and when it will actually be delivered."