Momentum is building for the campaign to fix the dangerous and chaotic intersection of the South Gippsland Highway in Leongatha.
The Nationals Member for Gippsland South, Danny O'Brien said a petition he has launched calling on the State Government to deliver the Leongatha Heavy Vehicle Alternative Route stage 2 was rapidly growing.
Mr O'Brien is calling for planning and capital funding to fix the disastrous intersection that resulted from stage one and is encouraging residents of South Gippsland to sign.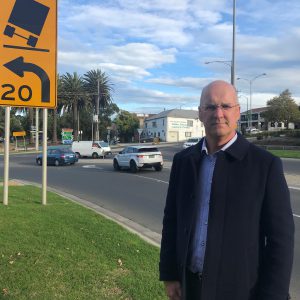 "So far we have just over 300 signatures on the online petition alone from people who can see that the South Gippsland Highway intersection at McCartin, Roughead, Anderson, Long and Hughes Streets is in urgent need of attention.
"It is a disaster waiting to happen and is only being further complicated by the Great Southern Rail Trail extension through Leongatha.  Leongatha and South Gippsland residents know this – my FaceBook post on the petition was widely shared and reached more than 16,000 people."
Mr O'Brien said South Gippsland Shire had listed the project as one of its priorities for advocacy and we now need to convince the Andrews Labor Government to get on board.
"This petition aims to highlight the importance of this project to the State Government.
"We need to put this issue on the agenda to ensure that necessary government planning and funding is put towards delivering a solution.
"There are a number of potential solutions but directing through traffic out along Hughes Street and back onto the highway either at Turner Street or further along towards Melbourne is likely to deliver the best solution."