The Nationals Member for Gippsland South, Danny O'Brien said he was overwhelmed by the response to his recent offer to meet with residents of Yarram, Woodside, Devon North, Staceys Bridge, Alberton and Port Albert in their home towns.
Mr O'Brien said he had over 30 appointments spread out over two days as well as a number of phone calls with residents who were not able to attend on the day.
"It was great to talk one-on-one with locals and have a real conversation about how state government matters are affecting them locally.
"As always there was a lot of concern for road maintenance, but it was clear that the growing cost of living is also at everyone's top of mind with increasing fuel and energy prices hitting hip pockets hard.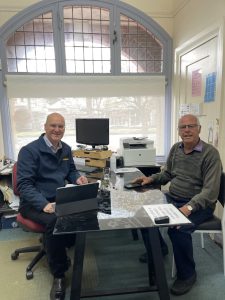 "The reliability of energy was also a hot topic, particularly for the people of the Devon North and Won Wron areas who, like a number of areas of Gippsland South, are suffering frequent power outages."
Mr O'Brien said he also discussed environmental concerns such as climate action and wildlife management among several other matters.
"I will now be following up on a number of issues raised at these meetings with the relevant Ministers and in Parliament."
Mr O'Brien said he is available to meet constituents at any time and will continue to visit towns across Gippsland South, including towns such as Toongabbie, Cowwarr, Yinnar and Boolarra which will be joining the Gippsland South electorate from November, over the coming months.
"I believe it's important that I am available in your local community wherever that might be so I undertake regular mobile office visits in all key localities throughout the electorate.
"In the weeks prior to visiting each town I will be sending a letter to all registered constituents advising of the day I will be visiting and inviting them to meet with me.
"Alternatively you can email me at any time at danny.obrien@parliament.vic.gov.au or call 03 5144 1987."
Mr O'Brien said his next planned visits will include the Korumburra area as well as Arawata, Jeetho and Kongwak areas.