The Nationals Member for Gippsland South, Danny O'Brien is joining the Foster community in celebration at the announcement of a new fire station for the town.
After years of campaigning, Mr O'Brien said it was a relief to see the calls finally answered with a new station scheduled for completion in the 2023-24 financial year.
"The need for a new fire station at Foster has been known for quite some time with the current station too small and insufficient for modern needs," Mr O'Brien said.
"The station door is simply too narrow for modern trucks, which to-date has meant that the Foster CFA has been denied a much-needed new fire truck."
Mr O'Brien has campaigned for a new station for seven years and through three different Emergency Services Ministers. The Nationals committed to rebuild the fire station if elected in 2018.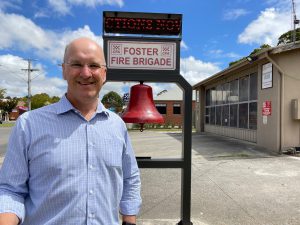 "I have now been told that a new Foster station has finally been budgeted for by the CFA, for completion in the 2023-24 financial year.  This may be brought forward subject to land acquisition.
"I commend the CFA for finding the funding and note the Andrews Labor Government remains absent from the field.
"This is certainly a case of better late than never.
"I'm delighted that our hard-working CFA volunteers will no longer have to juggle the OHS concerns of changing into their gear in the narrow space between the walls of the station and the fire truck."
Mr O'Brien said he understands the CFA has identified a parcel of land and is currently negotiating its purchase.
"I will be following the progress of this project with keen interest."