Leader of The Nationals and Shadow Minister for Regional Victoria and Agriculture, Peter Walsh heard first-hand the concerns of South Gippslanders during a visit to the region on Monday and Tuesday.
Mr Walsh visited Leongatha and Korumburra with The Nationals Member for Gippsland South, Danny O'Brien and Member for Eastern Victoria Region, Melina Bath.
The visit was part of Mr Walsh's ongoing listening tour around the state and included discussions with local business people, farmers and the South Gippsland Shire.
"We need a strong plan to re-open, re-build and recover and Peter Walsh is leading that as part of the Opposition team," said Mr O'Brien.
"It was important to have him in the region to hear first-hand of the issues that are facing people in South Gippsland.
"These include housing availability and affordability, the need to reduce red tape to encourage business development and new jobs and the shortage of mental health and other allied health professionals in rural and regional areas.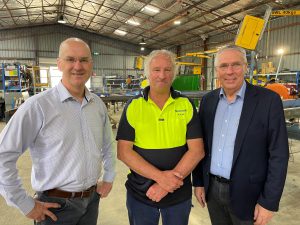 "We also spoke about planning with the Shire and it was great to meet new Mayor Cr Mohya Davies and Deputy Mayor Cr Nathan Hersey as well as CEO Kerryn Ellis."
Mr Walsh said there were many challenges facing the state pre-covid and the pandemic had made many of them even more difficult.
"We're seeing an exodus of people from the city to areas like South Gippsland and that's causing enormous pressure on housing availability and affordability as well as other state government services.
"We have already announced a plan to re-introduce planning flying squads and release 50,000 housing lots across regional Victoria in our first term which will help alleviate the housing shortage and ensure country people can get a roof over their heads."