The Nationals Member for Gippsland South, Danny O'Brien is thrilled to see the long wait for a new fire station at Yarram finally drawing to a close, with capital funding confirmed by the CFA.
Mr O'Brien said the project has been shovel-ready for years with a parcel of land purchased on Commercial Road back in 2016.
"Yarram has been in desperate need of a new fire station for several years now," Mr O'Brien said.
"The current station is far too small by modern standards and sees the CFA volunteers struggling to find room to change into their gear whenever there is a call out.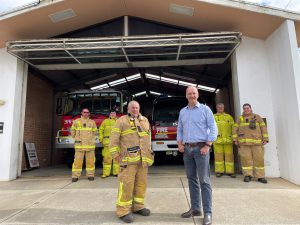 "The current fire station just simply wasn't made to house modern fire trucks or address the health and safety needs of our volunteers.
The Nationals committed funds to the rebuild of the Yarram Fire Station prior to the 2018 election, but unfortunately this was not matched by the Andrews Labor Government at the time.
"I have now been told that the rebuild of the Yarram station has finally been budgeted for by the CFA in the 2023-24 financial year, but may be brought forward.
"I commend the CFA for finding the funding and note the Andrews Labor Government remains absent from the field.
"While it has been a long time coming there is no doubt that this will serve as welcome news to the hard-working emergency service volunteers that have been making do with inferior facilities for years."