Lone Pine trees cultivated from the seeds of direct descendants of the World War 1 Lone Pine from Gallipoli were delivered to several local primary schools last week as part of the 100 Lone Pines Project.
The Nationals Member for Gippsland South, Danny O'Brien was honoured to join
Chairman of Friends of Gallipoli, Dr John Basarin OAM in presenting juvenile lone pine trees to Sale 545 Primary School, Sale and District Specialist School and Araluen Primary School.
The Lone Pine was a solitary tree on the Gallipoli Peninsula in Turkey, which marked the site of the start of an ANZAC assault in August 1915.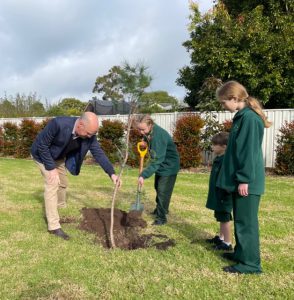 Mr O'Brien said the pines aim to solidify the connection between younger generations and Australia's history, whilst teaching students the importance of paying our respects and honouring those who have served and died for our country.
"I have no doubt that these trees will hold significant value to these primary schools," Mr O'Brien said.
"They are about remembrance, but they also remind us of the friendship that subsequently developed between Australia and Turkey.
"These pines will provide a talking point to discuss, learn, honour and remember the sacrifices of those that fought to provide the freedoms we enjoy today."