The Nationals Member for Gippsland South, Danny O'Brien says a solution to the escalating erosion problem on the Lake Victoria foreshore at Loch Sport must be made a priority.
Mr O'Brien lobbied for a share of funding recently announced in the State Budget by the Minister for Energy, Environment and Climate Change, Lily D'Ambrosio.  The Minister says she is "awaiting guidance" from her department on priorities for how $17 million set aside for coastal erosion in the Budget should be allocated.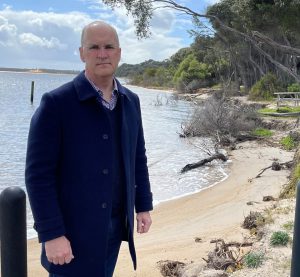 "I questioned the Minister during a Public Accounts and Estimates Committee (PAEC) hearing as to whether any of the money had been set aside for Loch Sport and received no clear commitment," Mr O'Brien said.
"I understand a new coastal processes study has just been completed and a report is being circulated suggesting possible avenues for addressing the erosion. I was seeking reassurances that the funds are there to allow the recommendations in that report to be implemented.
"I want to work with the community and the Government to ensure that we get a solution in place as soon as possible before further environmental damage is done.
"I've been writing to the Minister for over five years highlighting these concerns and am regularly contacted by constituents in Loch Sport who want to see action."
Mr O'Brien said that while the Andrews Labor Government continues to seek further advice, the problem for the Loch Sport community is only getting worse.
"We've already seen the need for funding to relocate the walking track in the Seagull Drive and Boulevard areas due to erosion and now the Seagull Drive carpark and toilet are even under threat.
"It's a matter of time before there are further incursions onto public land and ultimately onto private land if action isn't taken.
"Ultimately, more studies aren't worth the paper they are printed on if the Government isn't putting the money on the table to implement the recommendations."