The Nationals Member for Gippsland South, Danny O'Brien has hit out at the Andrews Labor Government for ignoring its own assets and facilities at McLoughlins Beach.
Mr O'Brien has been working with the local community to replace public toilets at the McLoughlins Beach jetty which closed last year and to seek a replacement for the jetty itself.
Mr O'Brien said he was frustrated that the Government was failing to provide any support for either asset which are significant attractions for tourists, recreational fishers and locals utilising McLoughlins Beach.
"The McLoughlins Beach public toilets are in a pretty sorry state and were closed for environmental reasons by Parks Victoria late last year.
"I've now received another response from the Minister for Environment indicating no further action and refusing to commit to rebuilding the toilets at all.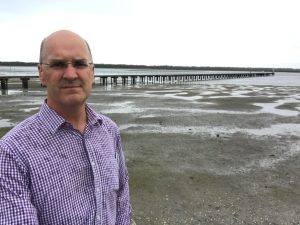 "This is just appalling. We are not seeking a new facility, we are just wanting the State Government to maintain its existing asset and it keeps stalling and trying to push the issue back onto the Wellington Shire and the local community.
"This is the State Government's asset and it must be rebuilt."
Mr O'Brien has also received a response to his recent request for funding of the replacement of the jetty.
"Once again it's four paragraphs of generic fluff, although the Minister for Fishing and Boating does at least acknowledge that public boating facilities at McLoughlin's Beach have been identified for asset renewal.
"Nonetheless that has been identified for many years now and no funding has been forthcoming.
"I will continue to work with the local McLoughlins Beach community and the Wellington Shire to pressure the Government to providing these local facilities."